DENTISTRY
Periodontal disease is the most common clinical condition noted in dogs and cats. By age 3, almost all dogs and cats have some form of dental disease. Dental disease starts with bacteria in the mouth that quickly forms into plaque and tartar that coats the teeth and spreads under the gum lines. This is where dental disease starts to play a significant role in the overall health of your pet. Bad breath is only the surface of the problem occurring in your best friend's mouth. Gum recession and bone loss start to occur and cause teeth to become diseased, loose, abscessed, or lost. The bacteria built up in the mouth can actually make its way into the bloodstream causing life threatening disease of the heart, kidneys, and liver.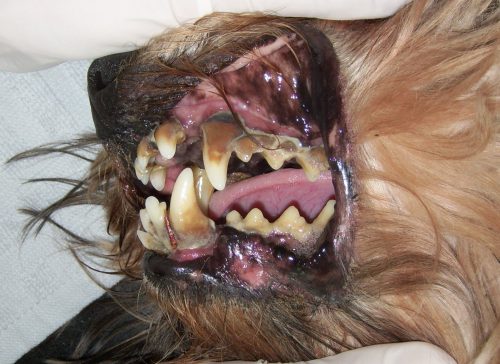 Periodontal disease is graded on severity:
Grade 0 — No plaque or gingivitis present. This is usually young healthy dogs and cats under one year of age.

Grade 1 — Mild gingivitis and plaque are present. The effects from this dental grade are reversible.

Grade 2 — Mild to moderate tartar and gingivitis are present on multiple teeth.

Grade 3 — Heavy tartar and periodontal disease with bone loss is present. Oral pain is likely with tooth lesions and possible fractures.

Grade 4 — Severe tartar, periodontal disease, and oral pain are present. With grade 4 patients, tooth loss is imminent.
Our dental protocol includes calling you the night before the dental cleaning to remind you to take up food and water from your pet at least 12 hours before the procedure. We require pre-anesthetic bloodwork to assure that your pet is a candidate for anesthesia before proceeding with the dental cleaning. We will perform the dental in our clinic while monitoring your pet with intravenous fluids, heart rate, SPO2, and blood pressure monitors. We perform full-mouth radiographs on all dental procedures.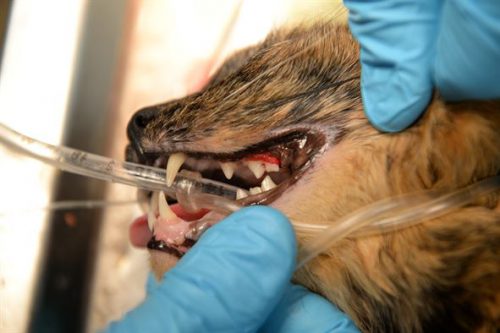 We allow your pet to recover at the clinic until we are assured recovery is uneventful and then we will give you a call to pick up your pet to allow them to completely recover in the comfort of his/her own bed. 
We strive to provide nothing but the safest care to your pet while under anesthesia so please note that if our pre-dental guidelines are not followed, we will cancel or postpone the dental to protect your pet from adverse complications.